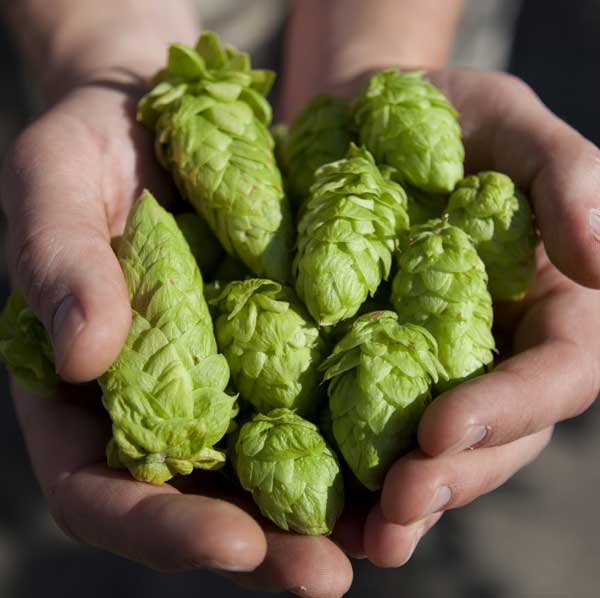 What do you do when you are unable to find a #hop variety online or at your
local homebrew shop
? Hopefully you're not throwing in the proverbial towel!
Many hop varieties can be used instead of hard to obtain hops with great success.
All of the hop substitutions suggested below were provided by
YCH Hops
. All hop varieties are domestic (USA) unless labeled otherwise.
Use the following key to help identify hop variety origins:
AUS

– Australia

CZE

– Czech

DEU

– Germany

FRA

– France
GBR

– Great Britain

NZL

– New Zealand

POL

– Poland

SVN

– Slovenia
Visit YCH Hop's
hop variety section
of their website for more in depth descriptions off all the hops listed below!
Hop Variety

Possible Hop Substitution

Admiral

(GBR)

Northdown

(GBR)

Target

(GBR)

Challenger

(GBR)

Ahtanum

Amarillo

Cascade

Centennial

Simcoe

Aramis

(FRA)

Centennial

Chinook

Hallertau

Tettnang

Bitter Gold

Bramling Cross

(GBR)

East Kent Golding

(GBR)

Progress

(GBR)

Bravo

Brewer's Gold

Brewer's Gold

(DEU)

Galena

Northern Brewer

Northdown

(GBR)

Bullion

Brewer's Gold

Chinook

Columbus

Galena

Northern Brewer

Cascade

Ahtanum

Amarillo

Centennial

Centennial

Challenger

(GBR)

Northern Brewer

Perle

(DEU)

Chelan

Chinook

Columbus

Northern Brewer

Nugget

Citra

Galaxy

(AUS)

Taurus

(DEU)

Cluster

Columbia

Columbus

Chinook

Galena

Millennium

Nugget

Comet

Crystal

Hallertau

Liberty

Mt. Hood

Strisselpalt

(FRA)

Hersbruker

(DEU)

East Kent Golding

(GBR)

Eroica

Brewer's Gold

Galena

Glacier

Bullion

First Gold

(GBR)

Crystal

East Kent Golding

(GBR)

Fuggle

Willamette

Fuggle

(GBR)

Styrian Savinjski Golding

(SVN)

Fuggle

(GBR)

Fuggle

Wilamette

Styrian Savinjski Golding

(SVN)

Galaxy

(AUS)

Galena

Brewer's Gold

Columbus

Nugget

Glacier

Fuggle

Willamette

Styrian Savinjski Golding

(SVN)

Golding

Fuggle

Willamette

East Kent Golding

(GBR)

Styrian Savinjski Golding

(SVN)

Green Bullet

(NZL)

Hallertau

Liberty

Mt. Hood

Hallertau Mittelfruh

(DEU)

Magnum

(DEU)

Merkur

(DEU)

Taurus

(DEU)

Tradition

(DEU)

Hallertau Mittelfruh

(DEU)

Liberty

Vanguard

Tradition

(DEU)

Helga

(AUS)

Hersbruker

(DEU)

Mt. Hood

Strisselpalt

(FRA)

Horizon

Liberty

Hallertau

Mt. Hood

Tradition

(DEU)

Magnum

Columbus

Horizon

Nugget

Magnum

(DEU)

Magnum

(DEU)

Merkur

(DEU)

Magnum

Taurus

(DEU)

Tradition

(DEU)

Millennium

Motueka

(NZL)

Mt. Hood

Strisselpalt

(FRA)

Hallertau Mittelfruh

(DEU)

Hersbruker

(DEU)

Mt. Rainier

Brewer's Gold

Fuggle

Hallertau

Newport

Brewer's Gold

Fuggle

Galena

Magnum

Nugget

Northdown

(GBR)

Northern Brewer

Challenger

(GBR)

Northern Brewer

Chinook

Galena

Northern Brewer

(DEU)

Northern Brewer

(DEU)

Chinook

Columbus

Galena

Magnum

Northern Brewer

Brewer's Gold

(DEU)

Nugget

Olympic

Opal

Tettnang

East Kent Golding

(GBR)

Styrian Savinjski Golding

(SVN)

Pacific Gem

(NZL)

Pacifica

(NZL)

Palisade

Perle

Northern Brewer

Northern Brewer

(DEU)

Perle

(DEU)

Perle

(DEU)

Phoenix

(GBR)

Northdown

(GBR)

Challenger

(GBR)

Pilgrim

(GBR)

Target

(GBR)

Challenger

(GBR)

Pioneer

(GBR)

Progress

(GBR)

Fuggle

East Kent Golding

(GBR)

Rakau

(NZL)

Saaz

Sterling

Saaz

(CZE)

Lublin (POL)

Saaz

(CZE)

Saaz

Sterling

Lublin (POL)

Santiam

Spalt

(DEU)

Tettnang

(DEU)

Select

(DEU)

Saphir

(DEU)

Select

(DEU)

Saaz

Tettnang

Hersbruker

(DEU)

Spalt

(DEU)

Tettnang

(DEU)

Simcoe

Spalt

(DEU)

Sterling

Sticklebract

(NZL)

Strisselpalt

(FRA)

Crystal

Liberty

Mt. Hood

Hersbruker

(GBR)

Styrian Aurora

(SVN)

Styrian Bobek

(SVN)

Styrian Savinjski Golding

(SVN)

Styrian Celeia

(SVN)

Saaz, Styrian Bobek

(SVN)

Styrian Savinjski Golding

(SVN)

Styrian Savinjski Golding

(SVN)

Fuggle

Fuggle

(GBR)

Styrian Bobek

(SVN)

Sylva

(AUS)

Summit

Columbus

Millennium

Simcoe

Warrior

Target

(GBR)

Taurus

(DEU)

Citra

Magnum

Tradition

(DEU)

Tettnang

Fuggle

Santiam

Spalt

(DEU)

Tettnang

(DEU)

Saaz

Hersbruker

(DEU)

Spalt

(DEU)

Select

(DEU)

Tradition

(DEU)

Liberty

Hallertau Mittelfruh

(DEU)

Tripleperle

Triskel

(FRA)

Ahtanum

Centennial

Chinook

Simcoe

Ultra

Vanguard

Hallertau

Liberty

Mt. Hood

Hersbruker

(DEU)

Warrior

WGV

(GBR)

East Kent Golding

(GBR)

Progress

(GBR)

Willamette

Fuggle

Glacier

Tettnang

Styrian Savinjski Golding

(SVN)
http://www.homebrewersassociation.org/how-to-brew/hop-substitutions/